FS9 Bombardier CRJ Aircraft Livery Package

SKU# sdp-dl01 (Freeware!)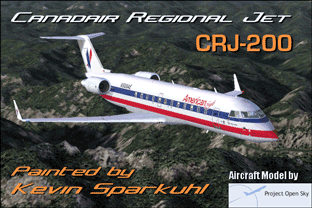 A complete aircraft package that's pre- configured to work with your new SkyDecks CRJ Panel. The package comes complete with twelve US and international liveries painted on a beautiful CRJ-200 model.
Included in this livery pack are: American Eagle, Delta Connection (new and transitional), Frontier Jet Express, Horizon Air, Independence Air, Japan Airlines J-Air, Lufthansa CityLine, Midway Airlines, Northwest Jet Airlink, South African Express and United Express. All liveries have been meticulously recreated by Kevin Sparkuhl. The fantastic Canadair Regional Jet, CRJ-200LR model file was created by Mitsushi Yutaka, formerly of Project Open Sky. We're certain that you'll enjoy the use of this freeware package to compliment your CRJ panel product by SkyDecks.
Original Model by Mitsushi Yutaka, formerly of POSKY.
Repaints by Kevin Sparkuhl
HTML Checks and References by Kevin Sparkuhl
Livery Pack Compiled by Kevin Sparkuhl
All Files Used With Permission