FS9 Bombardier CRJ Panel, v1.15

SKU# sdp-001 ($14.95)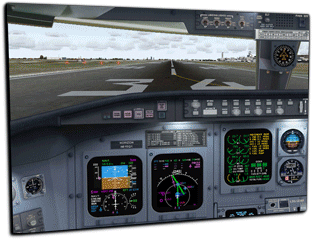 The SkyDecks Bombardier CRJ Panel, version 1.15, is one of the nicer renditions of this panel for FS2004. Designed after real-world cockpit manuals, we've made this panel as realistic and practical as possible. With quality, detailed gauges tht create a most realistic CRJ flight simulation experience, this regional jet is sure to be a favorite in your hanger!
Included in this release is an all-new ND display with selectable nav-aids that will show all the default visual information normally seen in the FS9 GPS screen. This means that VOR's, NDB's, Airports, ILS aprons and yes, even the loaded flight plan, will appear on the Nav Display just like the real thing! The display units are accurate and good looking. Of the three display screens, you will find a detailed Primary Flight Display and an EICAS Display as well. Every gauge has been created to provide a level of detail that SkyDecks has become known for.
And you have plenty to do on board with a nice overhead panel keeping you busy. Helping to make night-time routes even more fun to fly, you'll find realistic "back-lit" panel lighting and fluorescent flood effects that make flying at night much more enjoyable! The SkyDeck's Bombardier CRJ Panel is one that shouldn't be missed... Seeing is Believing!

Additional CRJ Panel Images: click to view