SkyDecks Company Information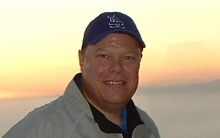 SkyDecks panels are designed by aviation enthusiast and FS veteran Kevin Sparkuhl. His passion for developing cockpit instrument panels was born out of the desire to find a realistic looking panel for the 737-NG; one that would live up to expectations of the real world aircraft. Released in June of 2003 for FS2002, the Boeing 737-NG Panel Project, Version 1.0, was enjoyed worldwide by well over 26 thousand Microsoft Flight Simulation enthusiasts and virtual pilots. The popularity of this excellent work has continued on through FS2004 and FSX.
Version 2, released in August of 2004, was among the first FS panel releases to import the GPS data within the MFD display. This made the standard FS flight plans to be visible within 2-D panel instrumentation. SkyDeck's commitment to producing quality software products which reflect the design principles of quality, visual realism and ease of use, will continue throughout upcoming releases.
Look for new widescreen airliner panel releases, coming soon from SkyDecks!
Comments from a few of our loyal customers:
"This will make a proud inclusion with the many models I already have for my busy virtual flying. Now I can fly endlessly within my den to any point in the world. Thanks for making it just a bit more fun in the process!"
Keith K. - Calgary, Alberta Canada

"Thank you on the awesome layout and ease of use of your 737s! I now fly your 737s exclusively. Skydecks provides me the perfect balance in challenge and ease, not to mention my airline livery looks dang good on it!"
Drew B. - Heidelberg, Pennsylvania

"I just have to say amazing work. This is the way FS aircraft ought to be built. I have spent so much money on other add ons that are just really hard to use. Kudos to you!"
Edwin R. - American Fork, Utah

"This is a superb piece of work. It looks great... I particularly love the colours in the glass panels and it does look great at night. ...just wanted to thank you for a great panel."
Sali M. - Honiton, Devon UK

"...the work you've done is amazing. With all the panels available from sim sources, it is rare to find one as detailed and well presented as yours..."
Mike R. - Ottowa, Canada

"...it is very pleasant to use. I'm surprised by the very full function ND and very simple to use. I would like to wish lots of greetings about this work, wonderfull !"
Jean-Pierre S. - Aigues-Vives, France